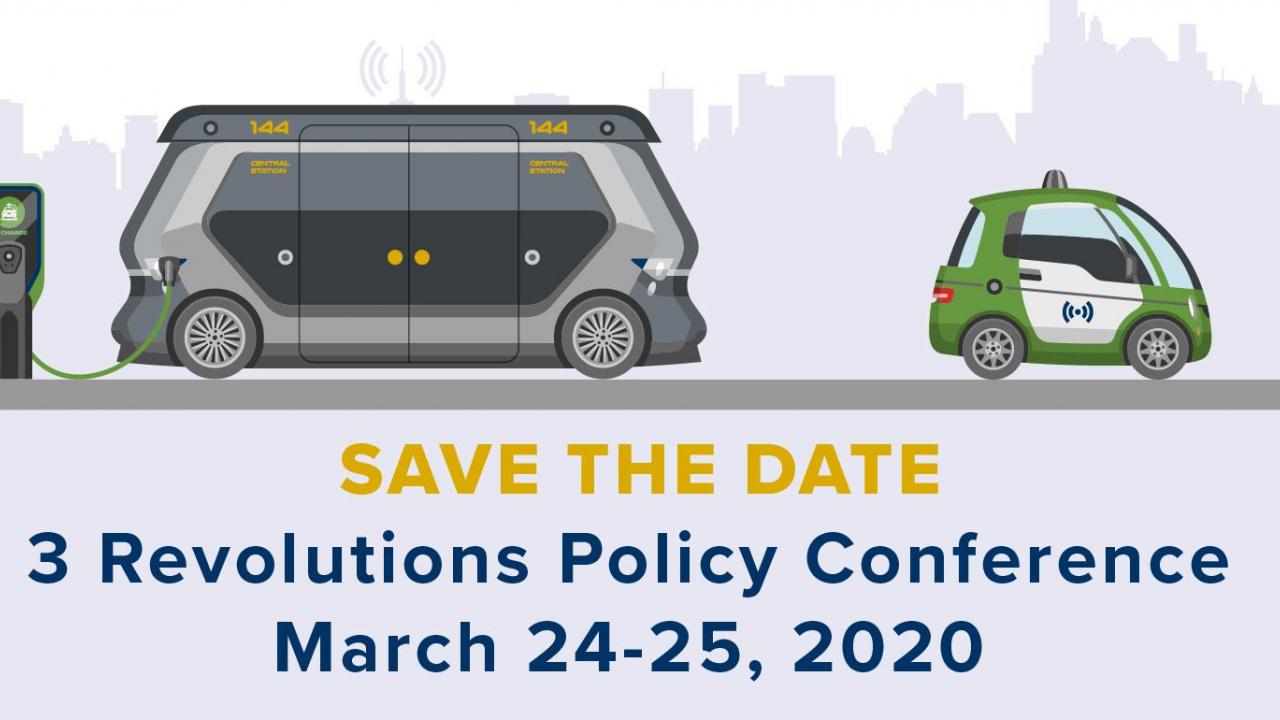 Location
UC Davis Activities and Recreation Center (ARC)
Register Now for the 4th annual 3 Revolutions Policy Conference
Event Overview
The fourth Annual 3 Revolutions Policy Conference will take place March 24-25, 2020 with a cross-cutting theme of Climate and Equity. This event will leverage the success of the past three 3 Revolutions Policy Conferences, aiming to dive deeper in identifying solutions for how the 3 Revolutions in transportation (sharing, electrification, and automation) can achieve equitable climate solutions. Key issues include data sharing, micromobility adoption, automated vehicle governance, ridehailing emission policy, and the evolution of public transit. The conference will tackle these challenges, and more, by highlighting strategies and innovative solutions. This year's conference will engage voices from a diverse set of stakeholders, including members of disadvantaged communities, commercial drivers, car dealerships, land-use experts, energy utilities, tech companies, and elected officials. Registration closes on March 24, 2020.
Featured Speakers 
Shoshana Lew, Executive Director, Colorado Department of Transportation
Seleta Reynolds, General Manager, Los Angeles Department of Transportation
David Kim, Secretary, California State Transportation Agency (Invited)
Topics will include community based innovation, equitable (de)congestion pricing, reducing ridehailing emissions, public health, workforce implications, international collaboration, and how the "3 Revolutions" can better serve the aging community.
Click here for more information including Registration, Agenda, and Hotel 
Watch video below to learn more about the 2018 3 Revolutions Policy Conference
Event Category
Tags