UVM's Erica Quallen Dives Deeper into Rural Travel Issues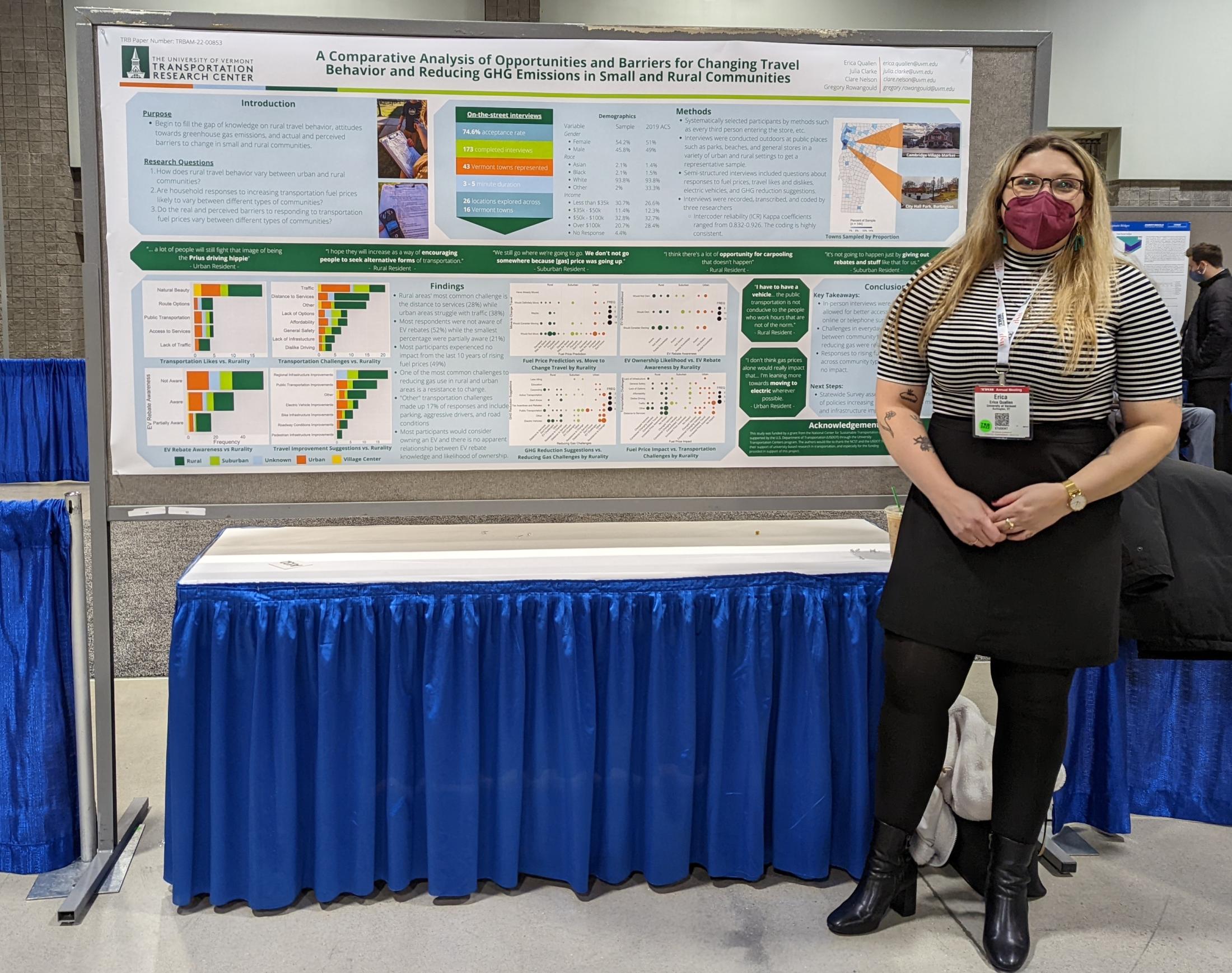 Meet Erica Quallen, a Civil Engineering Master's Student graduating this month from the University of Vermont!
Erica's curiosity surrounding transportation began when she was a child, observing traffic signs and road designs while sitting in the car on road trips with her family. This curiosity solidified into passion as an undergraduate student at UVM. Erica met her closest friend while an undergrad, and together, they shared their insights and interests in transportation and dreamt of the ways they wanted to transform infrastructure and behavior. Erica also landed multiple summer internships as an undergrad, introducing her to transportation engineering and planning by conducting traffic counts, pavement and sidewalk inventories, as well as gaining office experience.
After earning her BS in Civil Engineering, Erica worked for four years in the private sector before returning to complete her MS. As a transportation engineering and planning consultant, she worked on corridor plans, traffic impact studies, and traffic engineering design work with municipalities, Metropolitan Planning Organizations, and state agencies. The opportunity to collaborate directly with both stakeholders and the public sparked Erica's fascination with understanding the interactions between people and their local infrastructure. 
Erica is most interested in travel behavior, specifically the travel decisions of people within small and rural communities. In her master's research, Erica explored the impact of various definitions of the term "rural" on our collective knowledge of rural travel behavior, as well as its potential implications for policy decisions. Erica shared the following:
"What interests me most about transportation and what brought me back to school to engage in research is understanding how and why people interact with our transportation system in the ways in which they do. The social and behavioral components of transportation combine my love of people with my innate systems thinking approach to looking at the world."
Erica has lived in Vermont since 2013. While at UVM, the invaluable support and perspectives from faculty and fellow students were crucial in shaping and informing her experiences in the transportation sector.
In January 2022, Erica presented two papers at the Transportation Research Board's 101stAnnual Meeting in Washington, D.C., and was a recipient of the FHWA Dwight D. Eisenhower Transportation Fellowship. The papers presented included Consistently Inconsistent: An Assessment of Definitions of Rural and Travel Behavior Outcomes in Vermont and A Comparative Analysis of Opportunities and Barriers for Changing Travel Behavior and Reducing GHG Emissions in Small and Rural Communities. The first examined the definition of rural, highlighting the discrepancies in vehicle miles traveled when the same dataset were applied to different definitions. The second employed in-person interviews with Vermonters to get a sense of their attitudes and opinions on opportunities for and barriers to changing the transportation system for the sake of reducing greenhouse gas emissions.
Primary Category
Tags